Moses, the Marks
Edit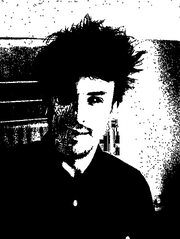 Name: Moses
Title: The Marks
Nationality: English / British
Proxy type: Voice
Serves: The Devil Voice

Moses the Marks is not a Slender Man Proxy, his face was partly ripped from his skull by The Ouija Man as he became another victim of his infection. His left side is scarred with a glowing white eye, and his right eye is pure black. It is thought that he is half Black Eyed Voice and has a vast knowledge of Black Magic. 
http://theouijaman.blogspot.co.uk/2013/07/article-2.html
Facts and Speculation
Edit
Moses was involved in the "claiming" of the Nameless for the Eyenein.
Moses is possibly one of the most dangerous of the Eyenein.
Moses is bound to his master, the Voice, and serves him without second questioning.
Moses appears when a person is at their strongest mentally, only to be broken piece by piece.
Moses stalks *human potential" for the Eyenein.
Moses will mark his words, and state his purpose before feeding on his victims and killing them.